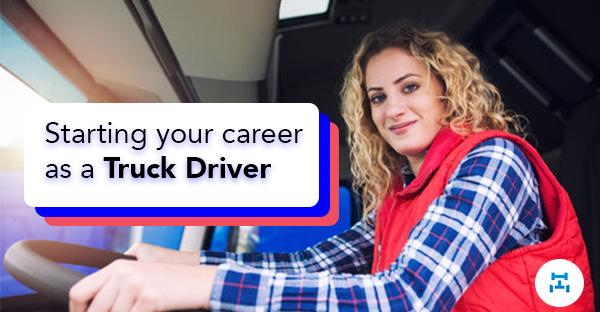 Before starting this journey, you should be 100% sure that you want to go down this career path. Remember that despite it being a career that brings in the bucks and takes you to different cities, trucking also involves making sacrifices and paying heavy attention to safety. Familiarize yourself with the industry as much as you can. If you're ready to begin, then we've put together a few pointers that might be useful before you start your career.
Checklist for becoming a Truck Driver
Obtain Commercial Driver's License.
Obtain endorsements for a particular truck/load type if necessary.
Buy your own truck and complete necessary insurance/paperwork OR join a trucking company and take on deliveries.
Getting your Commercial Driver's License
You will need to attend a trucking school to train for your CDL Skills Test. On average, it takes about 7 weeks (between $3000 & $7000) to get your CDL whilst completing the program full-time. You will need to dedicate atleast 40 hours a week for your truck driving training. It is also possible to attend a paid CDL program, often held by some of the larger trucking companies. They will teach you how to drive their trucks, get the CDL and give their graduates a driving job. Paid training programs may have an extra set of requirements including a commitment to employment (depending on employer).
To begin pursuing for your Commercial Driver's License (CDL),you will need to fulfill the basic requirements:
Possess a high school diploma or GED
Preserve a good driving record
Have a Class D license for at least 1 year and in good standing
Be at least 18 years old to drive in-state, 21 to drive state-to-state
Possess a social security card
Be able to show proof of insurance
Pass a 10-year background check
Pass TSA screening
Pass a medical examination
Pass periodic drug tests
Step 1: Get your Commercial Learners Permit (CLP)
The CLP allows you to practice on legal roads with a CDL holder sitting next to you. Besides a countrywide 10-year driving record & health check, your state may have specific requirements. For a better idea, please check your state's CDL Manual.
Step 2: Get your Commercial Drivers License (CDL)
You are required to hold the CLP for 14 days before taking the Skills Test. Some states may require you to take a CDL training beforehand. The Skills Test has three parts: The Vehicle Inspections Test, the Basic Controls Test, and the Road Test. Once you've pased the test, congrats! You're a certified commercial driver. You may be given the CDL on the same day or send it to you by mail. The CDL cost also varies according to state.
| | | |
| --- | --- | --- |
| CDL Application Fee | $0 – $43 | The Commercial Driver's License "application" is the form you will need to complete when applying for your Commercial Driver's License (CDL). This form will consist of your Identification Information (everything from your name, addresses, DOB, social security number to current license information),questions related to "Certifications" ("are you a resident in the state you're applying for your CDL in?", "do you have any limitations or medical conditions, either mental or physical?", and other questions related to qualifications). In addition to these questions, the application will ask about "CDL Endorsements" you are trying to obtain. For more on "Endorsements", read on. |
| CDL Endorsement Fee | Varies | Varies depending on endorsement & state. Six endorsements that can be added: – Double/Triple Trailers (Knowledge Test Only) – Passenger (Knowledge and Skills Tests) – Tank Vehicle (Knowledge Test Only) – Hazardous Materials (Knowledge Test Only) – Combination of Tank Vehicle and Hazardous Materials Endorsements (Knowledge Test Only) – School Bus (Knowledge and Skills Tests) |
| CDL Written Test Fee | Upto $125 | The CDL written test consists of questions on a number of topics, ranging from maintaining safe operating speeds in many types of driving conditions, handling cargo, using an electronic logging device, operating all the systems in the vehicle, and more. Test-takers receive 60 minutes to complete the exam. If the driver would like a particular endorsement (see above),additional questions may be added. Most endorsement tests add an additional 20 to 25 questions. Most states do not set a time limit for the test-taker to answer the endorsement exam questions. |
| CDL Skills Test Fee | Upto $250 | The CDL skills test involves a road test, a pre-trip inspection test, and a basic vehicle control test. The skills test is a necessary part of obtaining your CDL. During the skills test, you must drive on the road with a test administrator, so the test must be scheduled in advance. If you have two or more years of experience in driving with the military, you may able to waive the test. |
| CDL License Fee | Upto $120 | Once you've passed the CDL exam, you must pay for your commercial driver's license, which can cost upwards of $120. You must renew your CDL on a regular basis, but frequency varies by state. Check your state's requirements to find out more. |
There are three types of CDL's for each state.
| | |
| --- | --- |
| Commercial A | Any legal combination of vehicles with a gross combination weight rating (GCWR) of 26,001 pounds or more, provided the gross vehicle weight rating (GVWR) of the vehicle(s) being towed is in excess of 10,000 pounds. |
| Commercial B | Any single vehicle with a GVWR of more than 26,000 pounds, any such vehicle towing a vehicle not in excess of 10,000 pounds GVWR, or a 3-axle vehicle weighing over 6,000 pounds. |
| Commercial C | Any Class C vehicle with one or more of the following endorsements: – Hazardous Materials (HazMat) – Passenger Vehicle (PV) – Tank Vehicle (TV) |
Time to find a Trucking job
As an entry-level trucker, your options may be limited but always ensure your employer provides the right work/life balance and benefits. Choosing between a big or small company also has its differences. Small companies give you a higher pay and closer connections with staff, whereas big companies allow you to grow within the company and work on exciting projects. Most trucking companies aren't just going to let you out on the road in their own trucks without some sort of training. Training program lengths vary from company to company—but, for the most part, you can expect that they will be at least a few weeks long.
Finding your balance
Once you've become more comfortable and have clocked in a few thousand miles, it might be a good idea to think about what's next. Are you looking to move closer to home and do more regional work? Maybe you've got all the skills needed to move from a truck driver to an owner/fleet operator. Think about your goals, your accomplishments/ongoing challenges with truck driving before carefully selecting what's right.
Don't worry, we're by your side.
We hope this guide gives you an overview on how to start your exciting trucking career. As a company that's made by truckers for truckers, we want to make sure you get the job done in the most efficient and safe way possible. With support from our thousands of daily users who rely on our services, we will continue to update our growing features.
Stay in touch!
By Tharaka