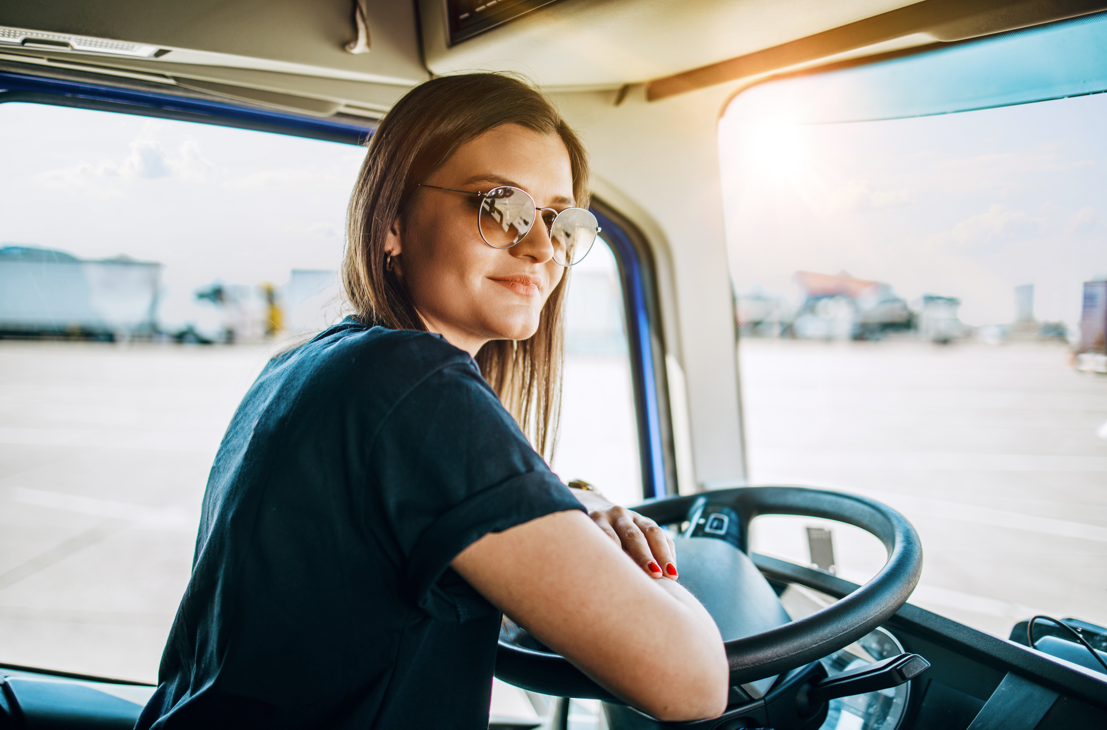 Trucker Path's recent survey revealed surprising truths about truck drivers' current state of happiness and job satisfaction.
In a March 2023 survey of Trucker Path app users, owner-operators and company drivers were asked 10 questions whether they were making as much money, working as many hours and experiencing as much job satisfaction as they were a year ago.
With freight rates low, fuel prices still high and trucking regulations on the rise, we were expecting responses ranging from bad to really bad.
Boy, were we surprised. The picture painted by their responses is a clear contrast to the doom and gloom pundits were pushing toward the end of 2022. Granted, it's not all flat grade and open road ahead. But judging by truckers' responses, it doesn't look like we're headed off a cliff, either.
Truckers Report Earning the Same Pay Today
Driver compensation was the number three issue for drivers that was revealed in the 2022 American Transportation Research Institute (ATRI) Top Industry Issues report. Additionally, DAT reports that dry van spot rates dropped 28% from March 2022 to March 2023. Nevertheless, over 65% of respondents in the Trucker Path survey report making anywhere from about the same amount of money to much more money now.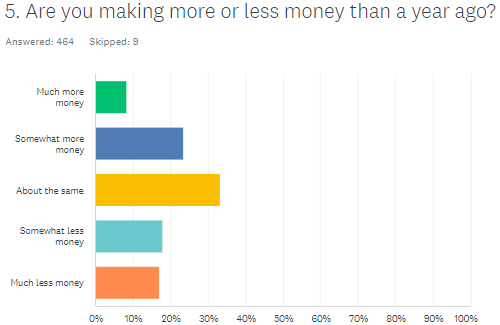 Drivers Say They're Working the Same Hours in 2023
Hours of Service (HOS) has made ATRI's top 10 list of industry issues in 8 of the last 10 years. Despite perennial complaints about HOS restrictions limiting their ability to work, drivers in the survey say they aren't lacking for driving time today. Over half report driving about the same amount of hours as a year ago. Over 80% say they are driving the same or more.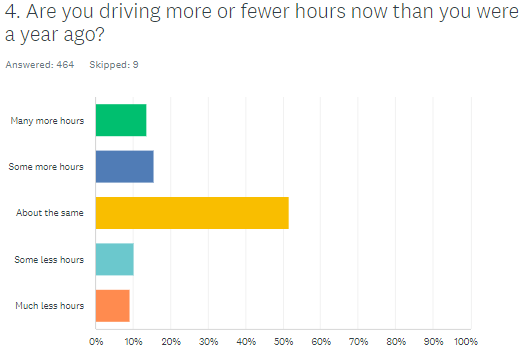 Truckers' Job Satisfaction and Job Happiness Steady
As pressures on the job mount, truckers make peace with conditions, clearly indicating their moods are not following the trajectory of freight rates. Regardless of major challenges like truck parking, fuel prices, speed limiters and HOS rules, almost 75% report being either about the same or better when it comes to happiness.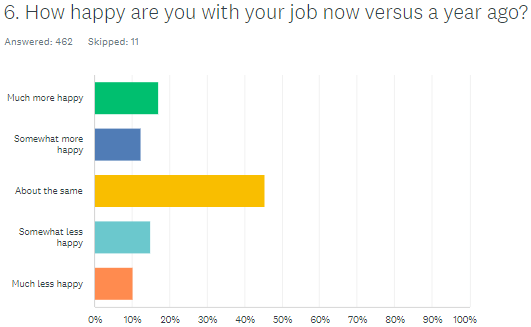 The same with job satisfaction: almost 75% of respondents say their jobs are just as satisfying or more so than they were last year.
Here are some of the reasons truckers gave for their happiness and job satisfaction:
"It's been a good profitable year for me so far."
"This job gives me the opportunity to support my family."
"Truckers are always learning, every day."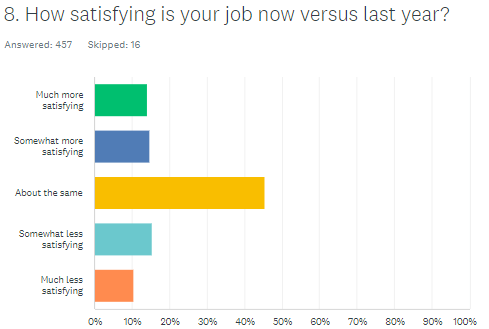 Truckers Polled Indicate a Desire to Stay Put
Trucker Path's survey suggests the great reshuffle might be slowing. Carriers competing for driver recruits have made for a very fluid job market in recent years. Not to long ago it was common for drivers to jump ship for better rates, signing bonuses and the promise of better hours or lanes. In the Trucker Path survey, less than half said they looked for a job in the last six months.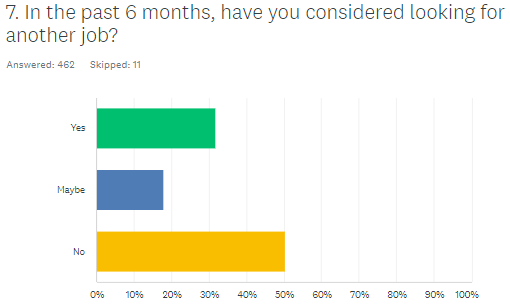 The Truckers Looking for Jobs Are Likely to Stay in Trucking
Almost 50% of respondents in the Trucker Path survey who said they looked for a job within the last six months indicated they were looking for a job within the trucking industry. That's good news for the industry which is still short 78,000 drivers by last ATA estimate.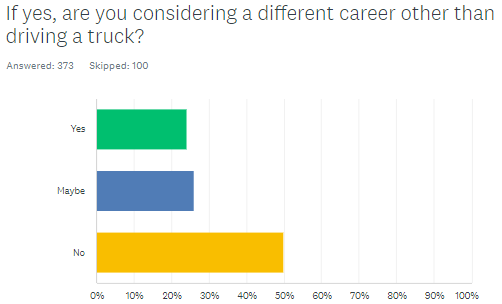 Truckers as Optimistic as Can Be Expected
America's tough and talented truck drivers aren't exactly the types to come out and say the future looks bright. They have their eyes on the road and the job ahead. For that reason, it's always good to adjust trucker's comments up a little for deflation.
In other words, when over 54% of truckers polled say 2023 will be about the same or better than 2022, you can deduce that things aren't so bad—and certainly better than expected.
Here's what that means from the mouths of truckers:
"I believe that truckers are sticking together more and the ones that don't want to are leaving the industry."
"Fuel prices should drop slightly. The rate of inflation should also drop slightly. Spare parts for vehicle repairs and other equipment repairs should become more widely available reducing downtime for maintenance."
"Work is there. You just need to know how to play the game."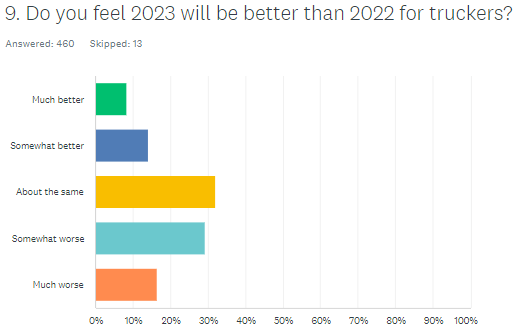 Your friends at Trucker Path are here to help you play the game—to win—with industry-leading solutions that help you rule the road and run your business profitably. Check out all that we offer for drivers, owner-operators and fleets here.