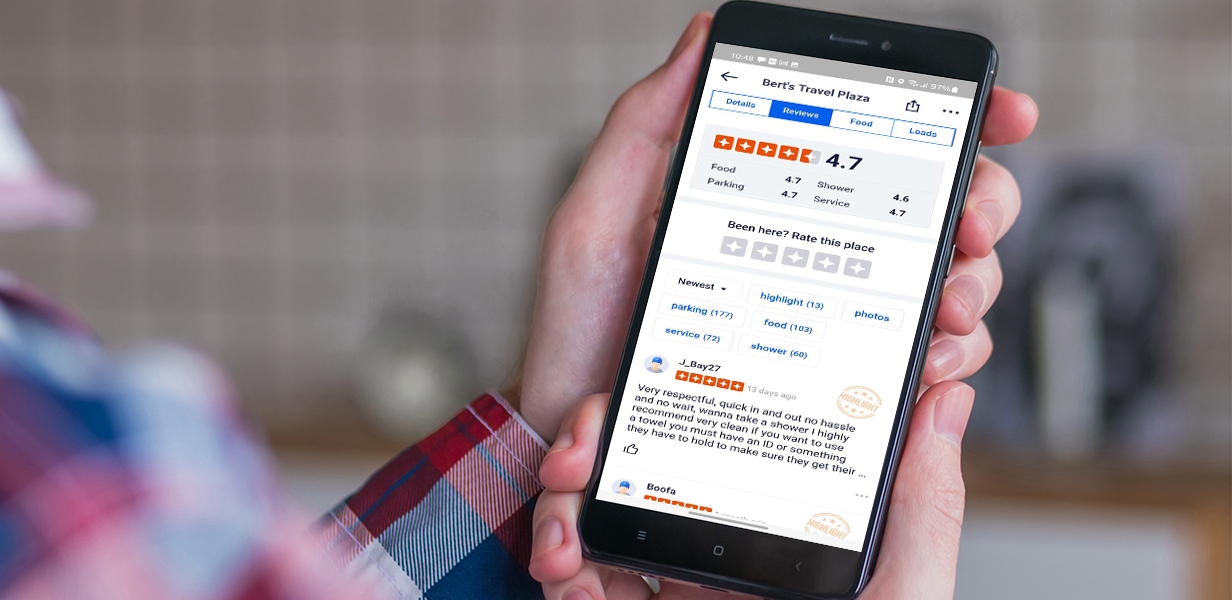 Top choices for chain and independent facilities for trucker-friendly services chosen by more than one million app users
 PHOENIX – March 2, 2022 –  Trucker Path, the most comprehensive and most used mobile app for North American commercial truck drivers, today announced the results of its annual ranking of truck stops. The Best Truck Stops winners among chain and independent facilities were based on ratings, reviews, feedback and votes by the more than one million Trucker Path app users.
The Trucker Path Top 5 Best Trucks Stops
Independent Truck Stops
1st Place — Bert's Travel Plaza, Wellsville, Kansas
2nd Place — Big Apple Travel Center, Joplin, Missouri
3rd Place – Boise Stage Stop, Boise, Idaho
4th Place — Russell's Endee Truck and Travel Center, Glenrio, New Mexico
5th Place — Truck World Truck Stop, Hubbard. Ohio

Chain Truck Stops
1st Place – Pilot Travel Center #1, Mill Hall Pennsylvania
2nd Place – Love's Travel Stop #812, Bliss, IdahoD
3rd Place – Rocky Mountain Truck Centers of Little America, Green River, Wyoming
4th Place – TA Oakley #91, Oakley, Kansas
5th Place – Love's Travel Stop #814, Hamilton, Alabama

"When I found out we'd won I was shocked because our store just opened on May 1, 2020," said Kim Jackson, general manager of Bert's Travel Plaza in Wellsville, Kansas. "But we've worked so hard to make it a great place. Being family owned, especially having owners that also operate a trucking company, really helps. They put all their trucker knowledge into our facility. The owner really wanted a place for drivers so it was built for the drivers. There's lots of concrete, bigger spots to prevent accidents and a security guard at night to help drivers.  We also have  free parking, a wash bay, and we have a 24-hour cleaning crew for clean showers and restrooms. I am very thankful for a great staff that also cares about  the drivers. At the end of the day, I'm very proud to show my kids that hard work really pays off."
For its annual Best Truck Stops award, Trucker Path uses in-app ratings, reviews and driver feedback to determine the top 20 chain and independent truck stops. The Top 5 lists are then created through voting on those locations by Trucker Path app users. Each Best Truck Stops facility receives a window decal honoring the location.
"Truck stop ratings by drivers reflect the locations that offer the best parking, food and a range of other amenities," said Chris Oliver, CMO at Trucker Path. "Recognition by drivers means these facilities are the right place to stop based on their features and customer service. This year's winners are what drivers tell us are the best chain and independent truck stops from among the more than 6,000 locations in the Trucker Path app."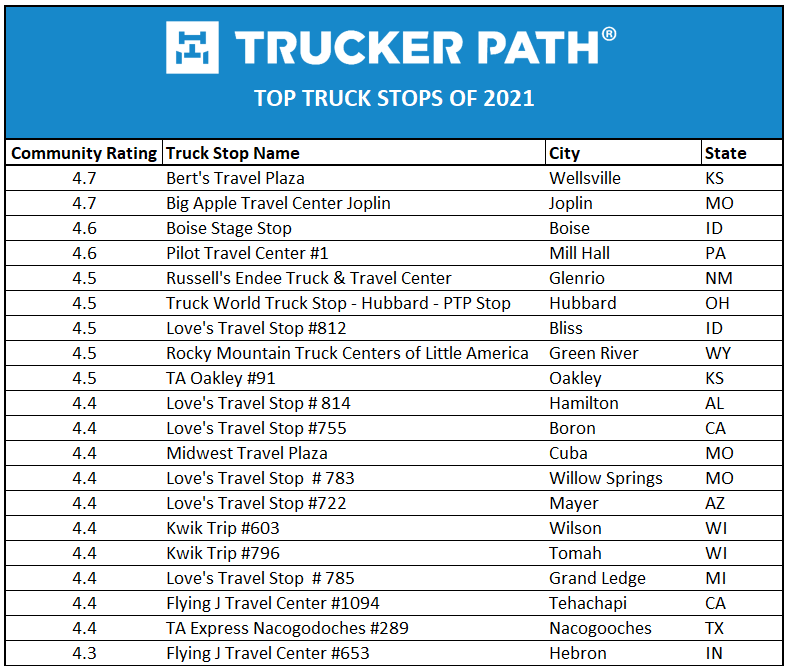 About Trucker Path
Trucker Path, the North American trucking industry's most comprehensive and most used mobile app for truckers, is in use by more than 1 million drivers. The online platform's unmatched capabilities provide access to vital up-to-date information about truck stops, real-time parking availability, fuel prices, weigh station status, truck scales and wash locations and much more. The advanced technology, designed to mitigate inefficiencies in the transportation industry, offers navigational assistance with truck optimized routing, and its TruckLoads freight matching load board connects drivers, carriers and brokers.
Media Contact:
Susan Fall
LaunchIt Public Relations
858-490-1050
susan@launchitpr.com