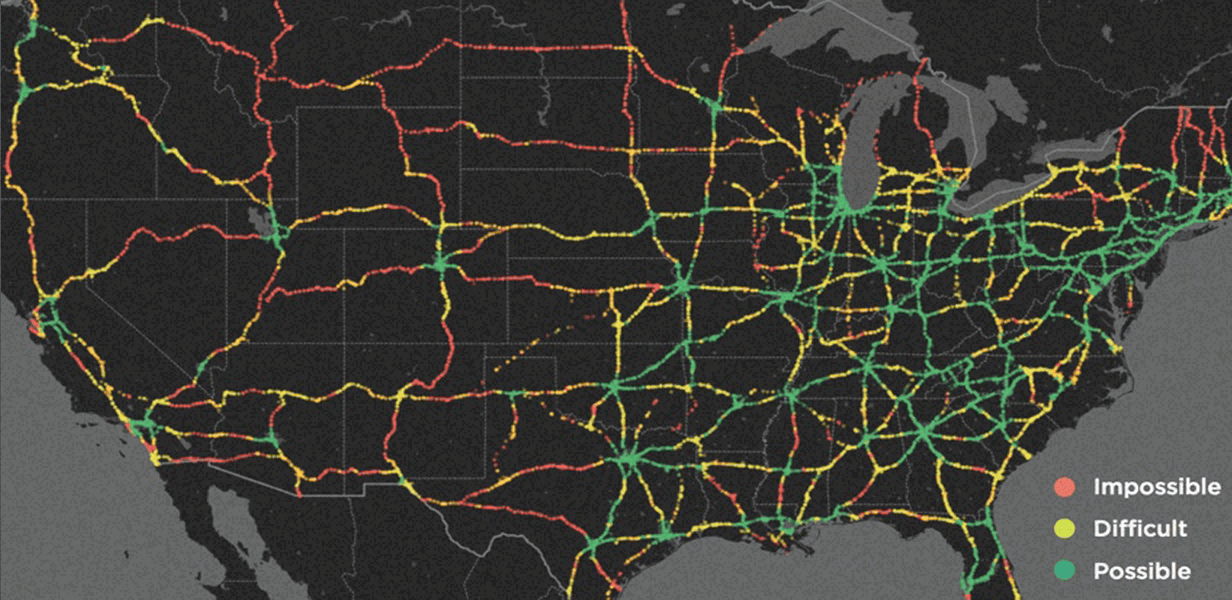 Finding safe truck parking is a looming issue that can cost the trucking industry an estimated $5.1 billion annually.
3 Factors to Help Resolve the Truck Parking Issue
1. Increase Capacity in Areas of Need
After examining the data at over 270,000 truck parking spots in 2016, we found that in the Western areas of America, it is nearly impossible for a truck driver to find truck parking nearby within 45 minutes. After surveying over 3,000 truck drivers we discovered that 40 percent of truck drivers spend an hour or more searching for nearby truck parking. That's nearly 10 percent of their allotted daily driving time!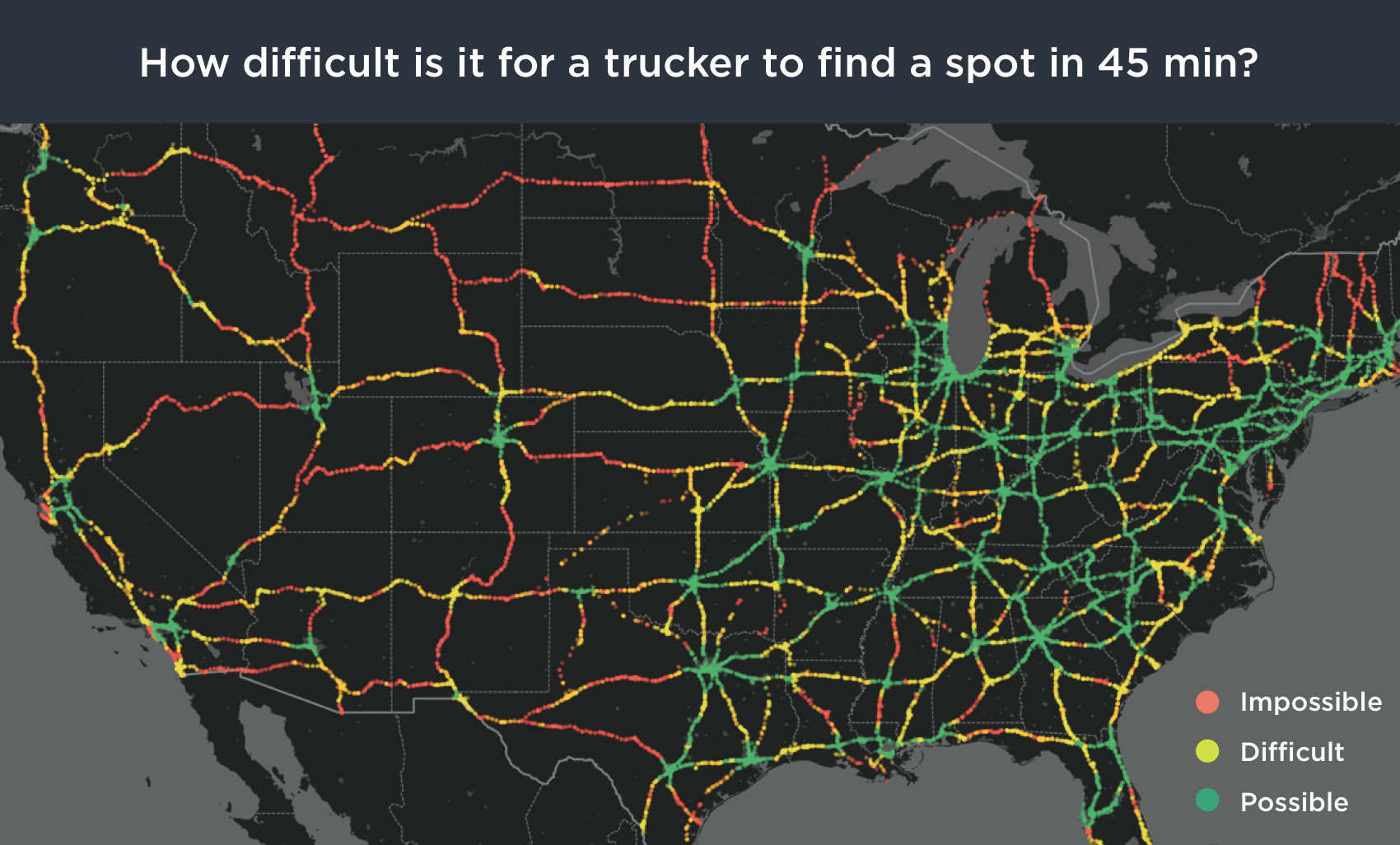 2. Increase the Use of Technology to Help Find Truck Parking
Technology can provide truck drivers with necessary information to find nearby truck parking. Trucker Path is a necessity for truck drivers who need to find nearby truck parking. There are over 8,000 truck stops, rest areas, and travel centers in the app with real-time updates regarding the available truck parking.
3. Improve Trip Planning and Efficiency by Drivers
Most drivers plan ahead by searching for truck parking along their route. However, on average, 16 percent of truck drivers say they start to plan for parking 30 minutes or less before hitting their HOS limit. For truck drivers to find available parking in a timely manner, especially in the Western part of the U.S., they should begin the process at least one hour ahead of hitting their HOS limit.
Fleets can also help their drivers by providing them with necessary recommendations or having technology like Trucker Path loaded onto in-cab devices. While some fleets are proactive, this is not standard as 86 percent of truck drivers say their fleets don't give them recommendations on how to find parking.
Using Trucker Path can save drivers an estimated 11 hours per month!
Lost Opportunity for Fleets and Truck Drivers
Time spent searching for truck parking can limit a driver's earning potential. If over 1.6 million truck drivers in America lose 11 hours every month, then the trucking industry is losing about $5.1 billion annually. Here is a detailed breakdown of the potential lost opportunity.
[images src="https://truckerpath.com/uploads/2017/05/chartcaption.png" alt="Cost of parking" width="316px" align="left"]
Unauthorized Truck Parking is Unsafe
Truck driver safety also plays a role in the truck parking issue. In 2015, 852 truck drivers lost their life while working, making it the most dangerous job in the USA. 79 percent of drivers were forced to violate their HOS because they couldn't find truck parking. Meanwhile, drivers have been forced to park in unauthorized locations such as highway shoulders, store lots, and off-ramps. These areas are unsafe for truck drivers, leading to potential cargo theft or accidents when merging off or back onto roads.
What's Being Done to Help Truck Drivers?
Truck drivers don't feel enough measures are being implemented to help them. 86 percent of truck drivers we surveyed said they feel the government isn't doing enough to help alleviate the truck parking issue. There are a few states that have taken the initiative in helping provide solutions for truck drivers.
States such as Kentucky and Florida (among others) now utilize weigh stations for truck parking, known as "rest havens". Meanwhile, Maryland and Delaware have provided corridor parking for trucks along I-95 resulting in 220 available truck parking spots.
Reopening rest areas for trucks to use for parking is another potential opportunity. Many rest areas were closed since 2008 due to state and city budget decreases. Rest areas that are closed like in California, where there are 13 not in operation could provide an average of 10 truck parking spots per location. The operational costs could be limited by providing only basic restrooms and security like surveillance or a rotation of a security officer on duty.