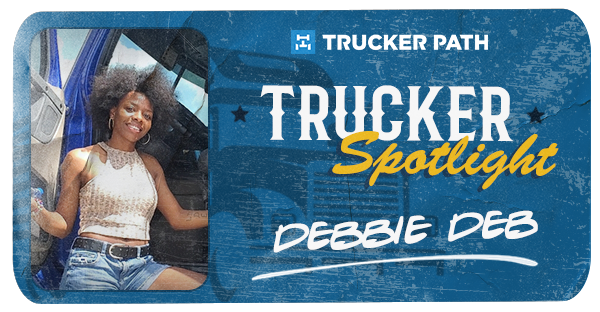 The Trucker Spotlight series explores the lives of truckers and their journey to make a difference in their industry. We interview different truck drivers to understand some life lessons that make them who they are today. We also learn more about their motivations, and the problems that they encounter on the job. We also tackle how Trucker Path's solutions helped them with what they do. The information that they provide helps inform other people who are looking to delve into the trucking world.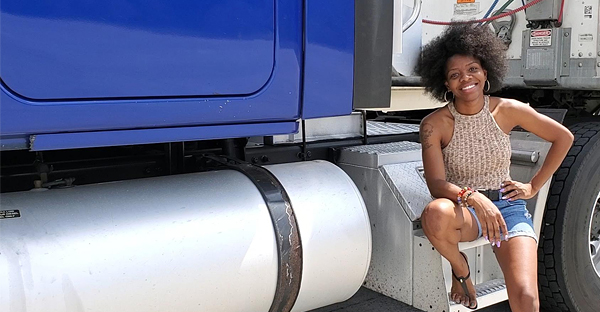 Today we are putting the spotlight on
Debbie Deb
, who's been driving for around 3 years now. She describes herself as ambitious, goal oriented, and charismatic. She once drove school busses in Charlotte before she decided to give trucking a try. Let's get to know more about Debbie and how a career in trucking became the perfect fit for her.
What made you decide to be a trucker?
I decided to drive trucks to pay off student loans from attending Virginia Commonwealth University and Northern Virginia Community College. I wanted to be a social worker and save all the little kids in bad environments but overworking myself interfered with my internship. I graduated college with honors and pursued sociology while minoring in psychology & social welfare.
What were some challenges that you faced when you started out trucking?
The biggest challenge was training with a male trainer for six weeks in a confined area. Sometimes my personality can exhibit someone who is recluse rather than always extroverted. Backing up the truck was another huge challenge, due to inexperience. The concept, I'd sometimes forget, was turning the wheel one way then the truck would go in a different direction.
In the years that you've been driving, what are the significant changes that you've noticed in the trucking industry?
Apparently, the FMCSA has regulations more stringent on hours of service when logging on devices to keep track of movement. Since it's only been three years, it's difficult for me to say.
What made you decide to put up your Youtube channel?
I started a Youtube channel to publicize my experience as a lady Trucker & try to convince other women that it was okay to step out their comfort zone. Tried to be informative yet entertaining (debbie deb).
Any times when you get lonely while driving? How do you deal with it?
I'm lonely all the time, but I deal with it because it's mind over matter. I love my space, prefer things to be kept clean, & I'm particular about my truck. Therefore, being a solo driver all this time NEVER bothered me. I pray a lot, listen to videos on what many people are oblivious to in society, and enjoy learning more about the self and figuring out ways to grow or even elevate.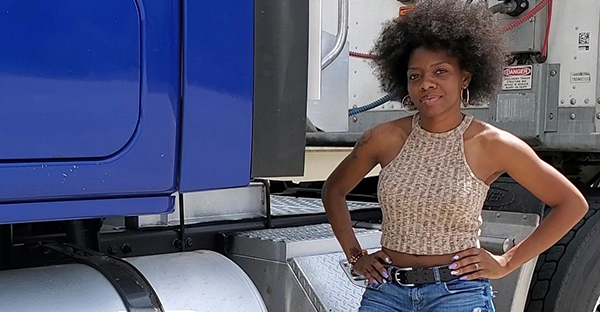 What keeps you busy nowadays? How did the current Covid-19 situation affect your trucking life?
Working keeps me busy & COVID-19 made me want to elevate more by purchasing my 1st truck on May 7, 2020. Right now, I'm focused my getting my motorcycle & publishing my 1st book about women in trucking.
What are your usual routes? Favorite scenic truck route?
It's between the heart of Seattle, WA or the mountains in Denver, CO.
What are your must haves or the things that you bring with you when on the road?
Must things are my Bible, items to protect myself for safety reasons, laptop, hair steamer/hair care products, and vitamins.
Favorite Truckstop? Truckstop Food? Favorite truck model?
My favorite truck stop is the Flying J in Primm, NV, as for the food it'll be O'Charleys! Truck model is the Frieghtliner Coronado Harrison glider.
What are your trucking pet peeves?
Receiving unwarranted attention (I can be shy at times, but you'll never know),when truck drivers dump their pee or pee bottles anywhere & aren't mindful, when being followed outside after a nice shower by another trucker who's trying to make unnecessary conversation, when drivers do their full 30m break at the fuel island in the daytime (late night is different 2am-3am),when truckers cut you off without giving enough space cause their in a hurry etc.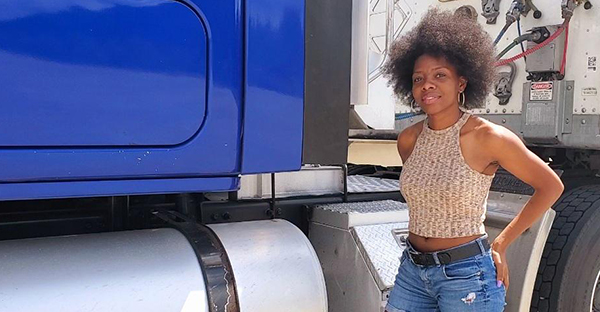 What are some tips that you would like to share for aspiring women truckers?
Don't let discouragement overpower you, choose your trainer wisely, carry a firearm but 1st learn the rules & regulations of each state, protect yourself at all times, have a plan & execute your goals.
Where can people watch your videos on Youtube?
They can view my videos on my
Youtube Channel, Debbie Deb
.Hope you guys enjoy!
By Aldous Aldwin