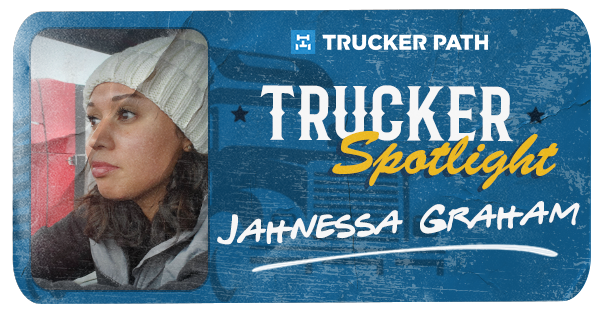 The Trucker Spotlight series explores the lives of truckers and their journey to make a difference in their industry. We interview different truck drivers to understand some life lessons that make them who they are today. We also learn more about their motivations, and the problems that they encounter on the job. We also tackle how Trucker Path's solutions helped them with what they do. The information that they provide helps inform other people who are looking to delve into the trucking world.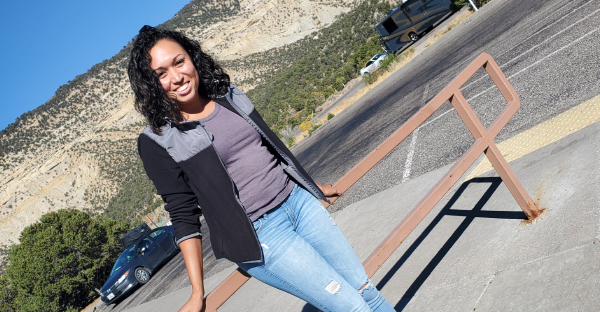 Today we are putting the spotlight on
Jahnessa Graham
, who's Tucsonan born and raised; 'Bear Down!' Her dream back in school was to become a fashion designer or pursue a criminal justice degree. Upon graduating, she ventured out on her own at 18, worked the dead-end jobs, secured her own apt, and went to college for a while; basically, getting by. Molding a life without a game plan and at 22 years old, a series of events led her to pursue a CDL. Let's get to know "Jahnessa" and how trucking came into her life.
What made you decide to be a trucker?
It began with me selling everything, I had to move into a truck for 5 months. I assisted in hand unloading freight for 'Dollar Tree'. I was the spotter for backing, handled paperwork and Qualcomm messages, as well as set up equipment for unloads. I absolutely loved the work, so I decided to move back home. I sat with my class D for a year and in March of 2018 made the move to attend CDL school.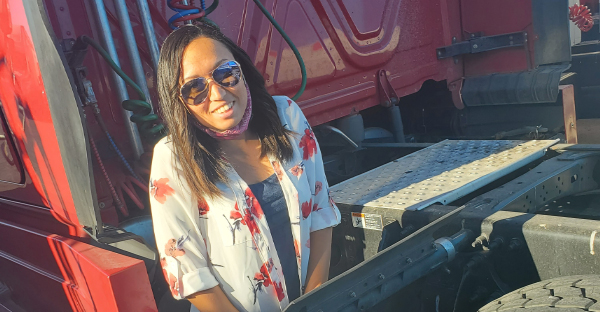 In the years that you have been driving, what are the significant changes that you've noticed in the trucking industry?
Coming up on three years in the industry, technically I am still a rookie driver, so I have not had to experience too much change. Starting out, there was a lot of disdain towards switching from paper logs to ELD's as many truckers complained about the severe restraint on our work week and ability to break when needed. I have noticed that new recruits are coming into the industry typically have more and more negative opinions/attitudes towards other drivers and office personnel. Another issue is the ever-changing regulations regarding our HOS laws. I think having people who have no experience in a semi, creating rules that hinder our work and health can prove harmful to drivers.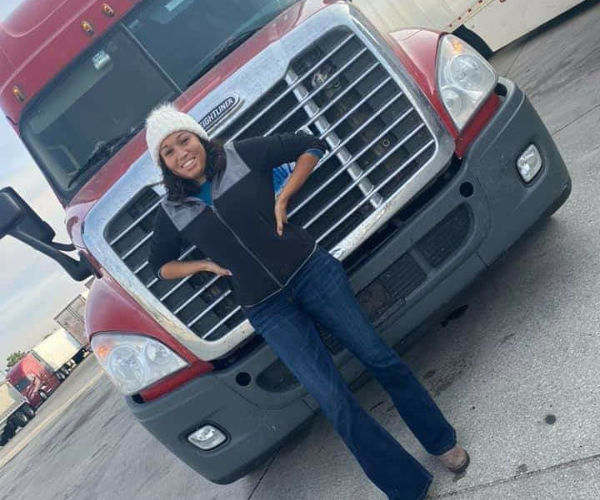 What are some things you dislike about being a truck driver?
Oh man, there is a lot! Here are my top five dislikes about the job:
4 wheelers
Disrespect from shippers, receivers, and office folk
Skirting the rules to make a living
Lack of communication
Constant stress
Don't get me wrong, I enjoy what I do and I'm great at it, but sometimes I think the cons outweigh the pros.
What attributes must one have in order to be a successful truck driver?
Definitely patience. There will always be something or someone who throws a monkey wrench in your plans so be prepared to have your time wasted. I feel like common sense plays a big role out here on the road and I would say in most situations that includes having the ability to make split second decisions. A professional driver must be able to interact with a variety of people and will show restraint when necessary. It is not a contest of egos! Lastly, one must have an excellent work ethic as simply doing the bare minimum will not get you anywhere. This industry is not for everyone and there is nothing wrong with that. However, in order to succeed, I believe these to be the best attributes to do so.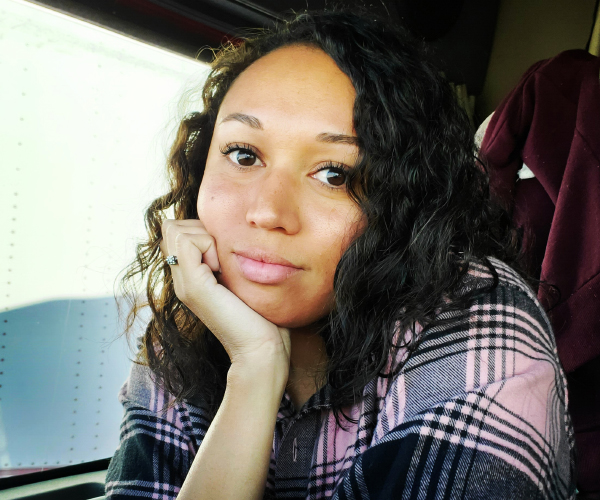 What's the most memorable experience you've had while over the road?
I will always remember the first time I got 'the signal'. It had to have been my first or second load solo when I was rolling through a small Arizona town one afternoon and I saw two boys walking home from school. They lifted their arms and gave a couple yanks on an invisible cord, aka the air horn signal. I was so excited and happy but sadly I could not blow the horn in such a small town off the highway no less. I still feel bad to this day, so I try to give kids and adults the pleasure of my airhorn whenever I get the signal.
What's your favorite Truck Brand / Model?
I really prefer Freightliner, Cascadia. It has been my main truck since the beginning, and I have come to enjoy it. Plus, the parts are plentiful which makes maintenance less of a hassle.
Aside from being a trucker, any other things you dream of doing?
As of lately I am thinking about starting up a food truck operation in conjunction with a new truck stop in Tucson, AZ. As a trucker I know that parking is hard to find, so being able to provide safe, easy parking along with homemade cooking is sure to please many drivers. I have also thought about obtaining my CDL instructors cert. and start a defensive driving school for both commercial and non-commercial drivers. I have mush to think about, but I am sure whatever I choose will be worth it.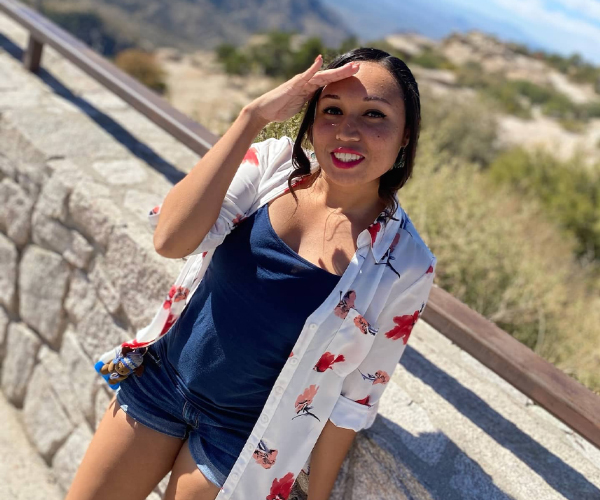 What's the best truck stop for you?
I love Pilot/Flying J and TA. They both seem to reign supreme in terms of food selection and showers. TA also tends to have adequate parking and maintenance shops.
What was the worst breakdown or setback you've experienced while OTR?
The worst breakdown I have had was with Navajo Transport, as a company driver. I was climbing a mountain in California when my truck suddenly lost all power, and my dash gauges were going crazy! I pulled off on the shoulder three times before barely managing to pull off on a small dirt cutout about 25 feet from the highway. After many calls to dispatch and breakdown, I was told that a tow was on the way. I sat from 10am until 12:30 am in the middle of summer waiting for a tow. The other employees I spoke with did not seem to care about who took care of the situation and I did nit hear back from them for hours. It was not a great day.
We're glad that you use the Trucker Path on your day to day trucking. What features do you enjoy the most?
The
Trucker Path
features I enjoy the most are Having the 7-day parking prediction is great! It is better for me to gauge whether a stop is going to be open for me based on specific times of the day. Truck stop details tabs allow me to choose where I stop based on food selections and amenities which I am grateful for. I am a sucker for Popeyes and Arby's right now! Another thing that impressed me from the start was attention to detail, specifically addresses and contact info. I can call ahead to ask for information, update my truck GPS to find a specific place quickly, and see hours of operation. Everything I need in one place that is easy to access is always a plus as a trucker!
What are some tips that you would like to share for aspiring truckers?
An important tip is to be one-hundred percent sure of your decisions as there is little room for mistakes and lots of room for big consequences. The mark of a true professional is given by how one overcomes challenges. I can say firsthand that the more effort you put into acknowledging and fixing mistakes as they happen, will make you a more conscious and skilled driver down the road. New drivers, please take anyone's advice with a grain of salt and do what makes you comfortable because at the end of the day it is your decision that affects your job and life out here. Lastly, make the best of what you have and do not let the stress weigh you down or knock you out. You got this!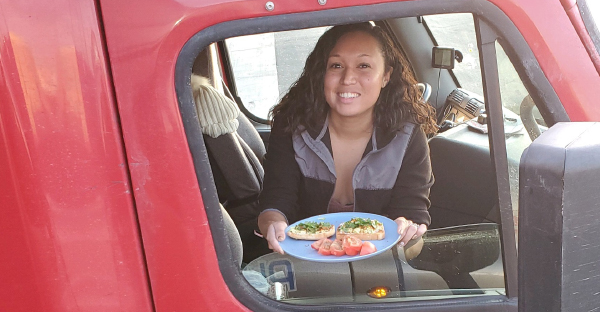 Where can people watch your videos on Youtube?
They can view my videos on my Youtube Channel,
Peaches N Grease
.Hope you guys enjoy!
By Aldous Aldwin